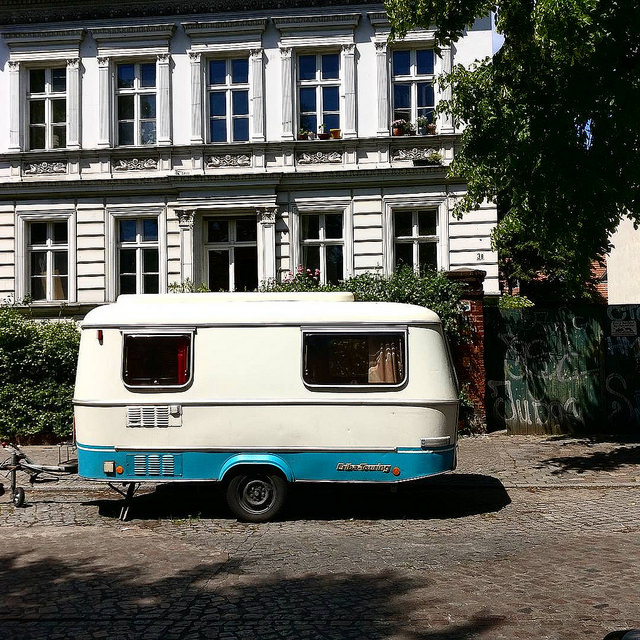 Even though there are many corners of Berlin I've yet to explore, I sometimes get a little too complacent here. I go through the motions of my day, visiting the same stores and restaurants, walking the same streets, and sticking relatively close to home. There's a comfort in this kind of routine, this Kiez Life, but sometimes it's nice to play tourist in your own city to remind you of what's right under your nose.
So when I had the opportunity to go on a walking food tour with eat-the-world, it was kind of a no-brainer. I'd never done one of these kinds of tours, but not for lack of interest. Rather, as a vegan, most of them don't offer food that fits my diet. But I was pleased to learn that the Neukölln walking tour is super accommodating: not only do they have options for omnivores and vegetarians, but they also have options for vegans. All I had to do was select my dietary preference when I booked my slot and I was good to go.
Funnily enough, our group had lots of dietary concerns. Aside from myself, there was a vegetarian who is allergic to peanuts, a vegetarian who is allergic to kiwi, an omnivore who is gluten-free, and an omnivore who is allergic to cherries and apples. But even with our special combination of restrictions, our needs were met and none of us went hungry.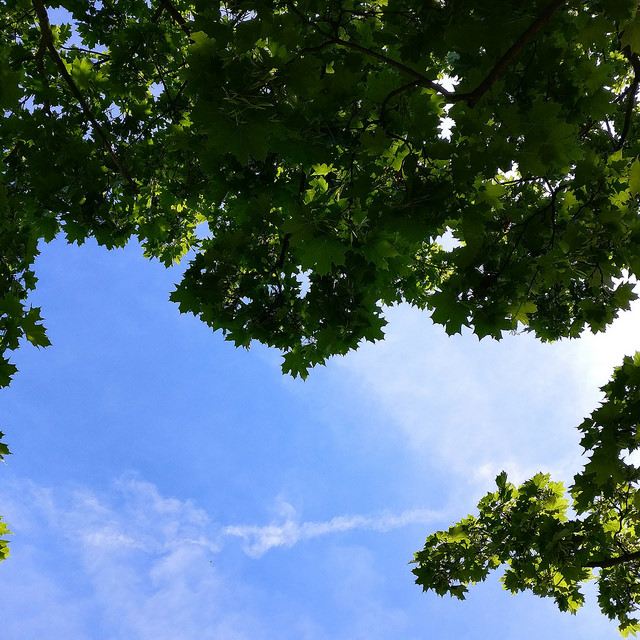 The initial forecast for our Friday afternoon tour had rain in it, and it was the day after the UK special election, so we (myself and my friend Katie, who joined me) prepared for a worst-case scenario of tramping through the streets of Neukölln and being especially depressed about a Tory majority. However, it turned out that it was pleasantly warm and sunny, and the UK ended up with a hung parliament, so we were in relatively high spirits when we met our tour guide at Richardplatz, next to the little Kiosk there.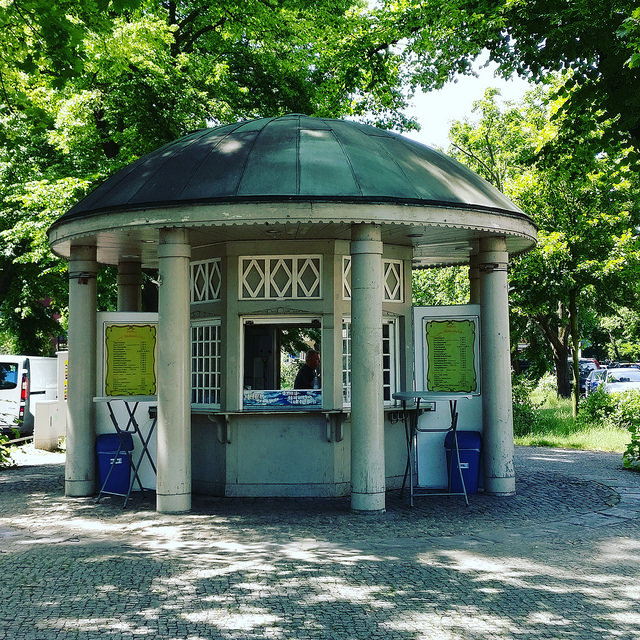 Iris was born in Vienna, moved to Berlin 15 years ago, and has never looked back. She lives in Neukölln, and she not only knows it well, but she's especially proud of the district. This made for an engaging tour, as she is enthusiastic about both the area's food and history.
Throughout our trip, we wandered through the Rixdorf area of Neukölln which is famous for its secret (ish) garden paths, its cobblestone streets, quaint one- and two-story homes, and it's annual two-day Weihnachtsmarkt. Some people aren't too familiar with the area, but my first apartment in Berlin was just across Karl-Marx-Strasse, so I got to know the area and its history quite well. Even so, already knowing a lot of the information on the tour, I still found it interesting and fun.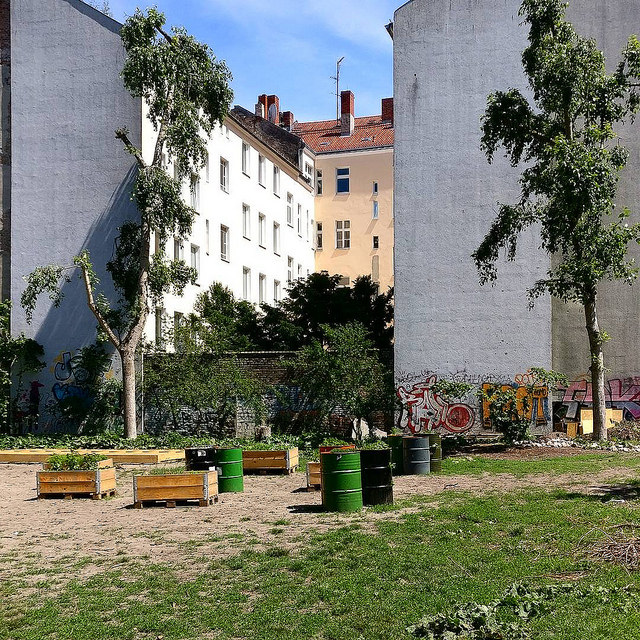 Over the three-plus hours of our tour, we were shown a lot of cool buildings and streets, but more importantly, we were given a lot of food. The tour takes people to 7 of 10 potential spots in the area, which of course varies based on the time and day. We ended up at a bakery, a cafe, a restaurant, a vegan spot, and more, so we really got to sample a lot of atmospheres (in addition to the food we were sampling).
The best part for me is that of the seven places we went to, I'd only been to one before. That's probably the coolest part about food tours in your own city: you get to discover places that you maybe thought about visiting but didn't, or that you maybe just overlooked. And if you're lucky enough, you find a few new favorites. That said, here were mine.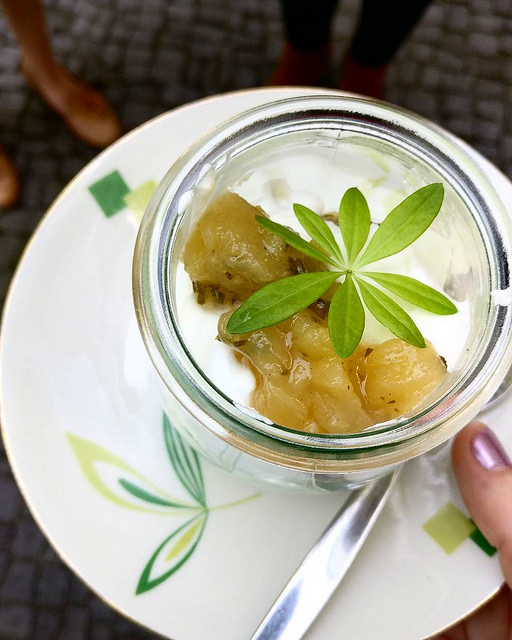 First up is Zuckerbaby, a sweet little cafe owned by two sisters. They specialize in breakfast foods and various sweets and prepared some tasty desserts for us. The tiny lemon bundt cakes looked awesome, but they had dairy, so I can't comment on how they tasted. But once I had the first bite my treat, I wasn't so jealous anymore. I was given a glass filled with fruit and a sweet vegan cream, topped with woodruff. It was light and refreshing, especially on such a warm day, and once I finished it, I kind of wished there was more. I made a note to myself to come back again and try one of their breakfasts.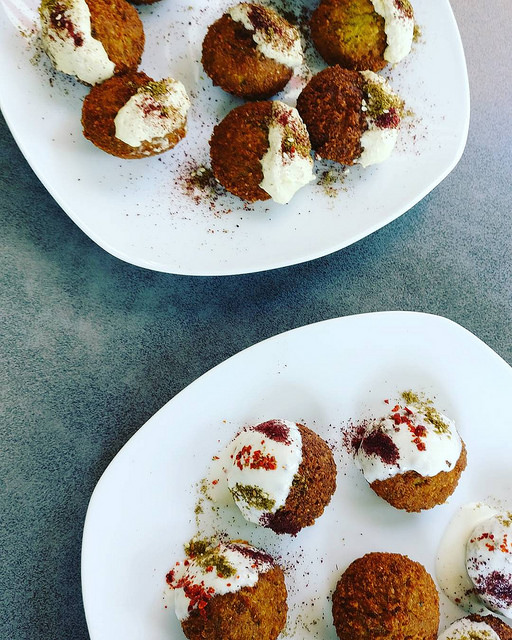 Later on in the tour, we visited OS'Kitchen. I'd seen it in passing last year, noticing the modern design and feel, but never had much of an opportunity to visit. But once I tried their falafel, which was fresh, hot, and covered in hummus (and yogurt for the non-vegans), I knew I had to make my way back. The food is a bit more expensive than other Arabic food you might find in the neighborhood, but when you experience the freshness and the presentation of the food, it's not difficult to understand why. More than just good food, you're also going to OS'Kitchen for the atmosphere. We already have a favorite hummus spot in Neukölln, but we don't yet have a falafel one, so this is a serious contender.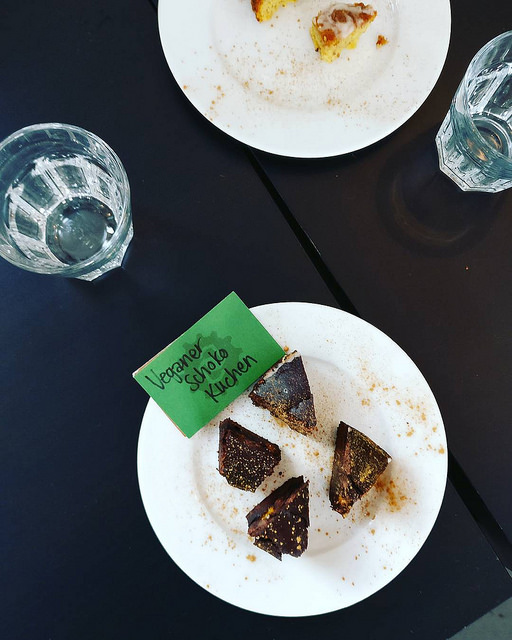 Another spot we visited, which ended up being my favorite, was Prachtwerk. I must have walked by the building at least 100 times, if not more, but I never bothered to look inside, so I didn't even know it was a cafe. And to be honest, the outside isn't the most welcoming. But once you walk in the doors and up the steps, you're greeted with a lovely, open space that used to house a bank. There's a gorgeous bar that serves up coffee and food by day and drinks by night, plenty of seating and wide-open windows, and a stage for where musicians perform on select nights of the week.  Downstairs are some amazing bathrooms and there's even an art gallery. Needless to say, I was impressed. The vegan chocolate cake wasn't bad either…
All in all, the food tour was a fantastic way to spend three hours and go a bit deeper under the surface of Rixdorf and its surrounding areas. I'd recommend it to visitors wanting to learn more about Berlin, but also residents who want to discover new sites and bites. The best part is that the Neukölln tour isn't the only one eat-the-world does, so you can choose the district you want to explore and go from there. One caveat though: not every tour has an English-speaking option readily available, and some of them are more meat-heavy, so if you don't speak German or you're an herbivore, the Neukölln tour is your best starting point.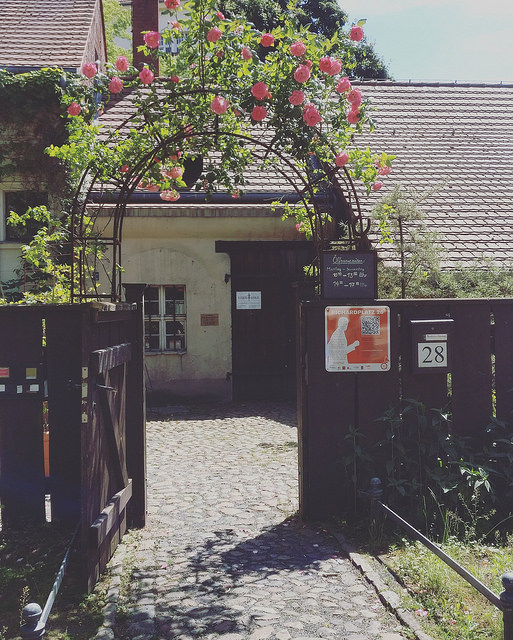 Disclaimer: I was offered a spot on this food tour for myself and a friend in exchange for an honest review. All opinions are my own.
2 Comments